About Vinny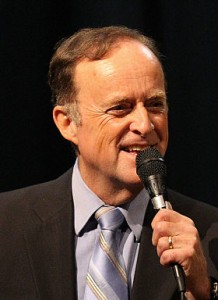 Known to many as "the man who sings the Divine Mercy Chaplet on EWTN," this father of seven has been involved in a ministry of mercy for over forty years, using his gifts of speaking, writing, counseling, and music to help people understand the teachings of the Church and open their hearts to the healing touch of God's love. His personal, straight-forward style of writing and speaking makes theological concepts and the teachings of the Church come alive with new meaning and relevancy.
As a teacher and counselor for fourteen years, Vinny experienced first-hand how much healing is needed in the world. Feeling called to respond to this need, he began using his gifts in full-time religious ministry. His powerful teachings on Divine Mercy, Mary, the Sacraments, and the Father's love have made him a popular speaker at conferences, and retreats.
A former Executive Editor at the Marian Helpers Center and former General Manager of Divine Mercy International, Vinny was actively involved in spreading the message of Divine Mercy, presenting workshops for religious and lay leaders with two of the most respected Divine Mercy experts in the world, Fr. Seraphim Michalenko and Fr. George Kosicki. Co-author of the Now is the Time for Mercy and the famous little booklet, The Divine Mercy Message and Devotion, Vinny also edited the official English edition of the Diary of St. Faustina.
Vinny's book 7 Secrets of the Eucharist has been acclaimed by Cardinal George Pell as "a must read for Catholics." Published in 2007, the book has remained on the Top 10 Best Sellers list for Ignatius Press. Now in its twenty-third printing (over 100,000 copies sold), 7 Secrets of the Eucharist is also available as an audiobook (2 CDs). It has been published in Spanish, Polish, Indonesian, and Croatian, and an Italian edition is in progress.
Vinny's second book, 21 Ways to Worship: A Guide to Eucharistic Adoration, released in 2012, has been lauded as "Brilliant!" This must-read book offers simple but profound ways to pray during a Holy Hour, encouraging readers to draw close to the Lord in Eucharistic Adoration. Many have said it has helped them not only deepen their experience of Adoration, but has transformed their prayer life in general. It has been published in Spanish and a Polish edition is in the works.
In the fall of 2013, Vinny continued his "7 Secrets" series with another best-selling book, 7 Secrets of Confession, which is based on his life-changing talk on confession as a sacrament of healing. Also published in collaboration with Ignatius Press, 7 Secrets of Confession has since been followed by an accompanying Study Guide, foreign editions, and an audiobook.
While Vinny was still writing 7 Secrets of Confession, he also compiled the first ever collection of parallel Scripture verses and passages from the Diary of St. Faustina. This ground-breaking book, titled Mercy's Gaze, was released in fall of 2013 by Marian Press, and inspires prayerful reflection, drawing the reader to a deeper understanding of how the message of God's merciful love is at the very heart of the Gospel.
Vinny just recently finished the third book in his "7 Secrets" series, 7 Secrets of Divine Mercy. A game-changer for the spiritual life, this much-anticipated book is a concentrated synthesis of Vinny's vast knowledge of the Divine Mercy Message. Coinciding with the opening of the Jubilee Year of Mercy, 7 Secrets of Divine Mercy has just been released and is not only on sale, but also available in several bulk options.
To see a photo gallery and read some fun facts about Vinny, click here.