Vinny's Many Hats

Many people don't realize that these "hats
all belong to the same man. So whichever hat brought you …
We're glad you found us here at VinnyFlynn.com!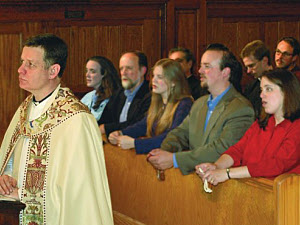 Chaplet of Divine Mercy
Vinny is the man who has been singing the original Chaplet of Divine Mercy on EWTN with some of his children for over 20 years. These recordings have introduced thousands of people throughout the world to this powerful prayer. Well known convert Jeff Cavins first saw the one recorded in 1989 (with Vinny and his daughter Erin) and speaks about what a profoundly beautiful impact it had on him during his conversion.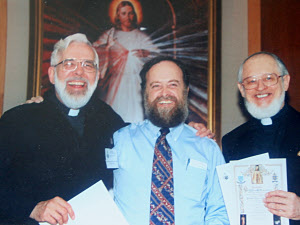 Divine Mercy Expert
Together with 2 of the most respected Divine Mercy experts in the world, Fr. Seraphim Michalenko and Fr. George Kosicki, Vinny rounded out the team that trained many of the people you now see speaking and writing about Divine Mercy at conferences and retreats around the world.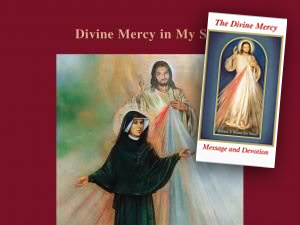 Diary of St. Faustina
Vinny was one of the original editors of the official English edition of the Diary of St. Faustina! In fact, in his role of Executive Editor at the Marian Helpers Center (the official guardians and promoters of the Divine Mercy message) he wrote and/or edited a vast number of the Divine Mercy materials that are still used today. This message has been in his heart since he was first introduced to it in 1957, and he has been at the heart of spreading this message to the world.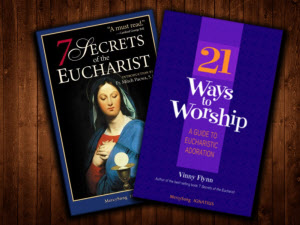 Best-Selling Author
Vinny's books, 7 Secrets of the Eucharist and 7 Secrets of Confession, have been best-sellers at Ignatius Press, and have made him a sought after speaker. His book on Eucharistic Adoration, 21 Ways to Worship, has been endorsed by the likes of *Jeff Cavins *Fr. Mitch Pacwa *Matthew Kelly *Fr. Don Calloway *Donna-Marie Cooper O'Boyle *Fr. Larry Richards, and *Fr. Michael Gaitley. His book Mercy's Gaze, released through Marian Press, breaks new ground as the first ever compilation of parallel Scripture verses & passages from the Diary of St. Faustina. Vinny's 1st book, 7 Secrets of the Eucharist, has sold over 100,000 copies and has now been translated and published in Spanish, Arabic, Polish, Croatian, and Indonesian. An Italian edition is also translated and awaiting publication.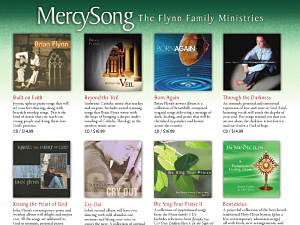 Catholic Musician
He has produced 16 prayer and music albums with members of his family ministry, MercySong, including various Rosary, Chaplet, and traditional and contemporary music CD's. Before deciding to focus more on writing and speaking, Vinny and members of the family often provided music for many Eucharistic and Marian conferences around the country.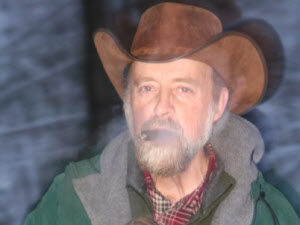 Family man
Father of 7, Grandfather of 27, avid gardener, hunter, fisherman since the age of 10, dreams of having a ranch, loves a hearty dry red wine, was a Latin, Psychology, and English Literature teacher for 14 years, never gets tired of the ocean, and is sometimes known to move you to tears by reciting poetry from memory.
Check out our fun photo gallery of Vinny literally in different hats!
Once you open the slideshow just click on any photo to come back to this page. Enjoy!
Read about Vinny's new Parish Program
See a list of popular Conference Talks
Get more info on Vinny's books
Shop for Books and CD's at the Store