7 Secrets of Confession Audiobook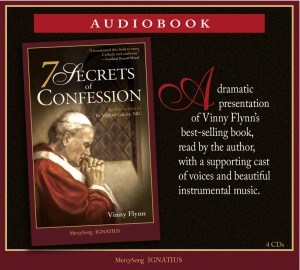 MercySong and Ignatius Press are pleased to announce the release of the AUDIOBOOK presentation of
7 Secrets of Confession.
This is a dynamic presentation of Vinny Flynn's best-selling book, read by the author, with a supporting cast of voices and beautiful instrumental music that signals the beginning and end of each chapter.
Get ready to explore the "hidden" truths of this great sacrament and discover a whole new way of going to confession!

To read more about the book 7 Secret of Confession go here.
 "Those who read this short but insightful book
should be able to approach the sacrament of Confession
with greater love, fervor and gratitude.
I am happy to recommend it to every Catholic and confessor."
~Cardinal Donald Wuerl, Archbishop of Washington

"7 Secrets of Confession, he addresses the most misunderstood
sacrament of the Church, and his readers will never
look at confession the same way again."
~Felix Carroll, Author, Lost, Loved, Found: 17 Divine Mercy Conversions