21 Ways to Worship

New Cover Release for 21 Ways to Worship!
Recommended by: *Jeff Cavins *Fr. Mitch Pacwa *Matthew Kelly *Fr. Don Calloway
*Steve Ray *Fr. Larry Richards, and many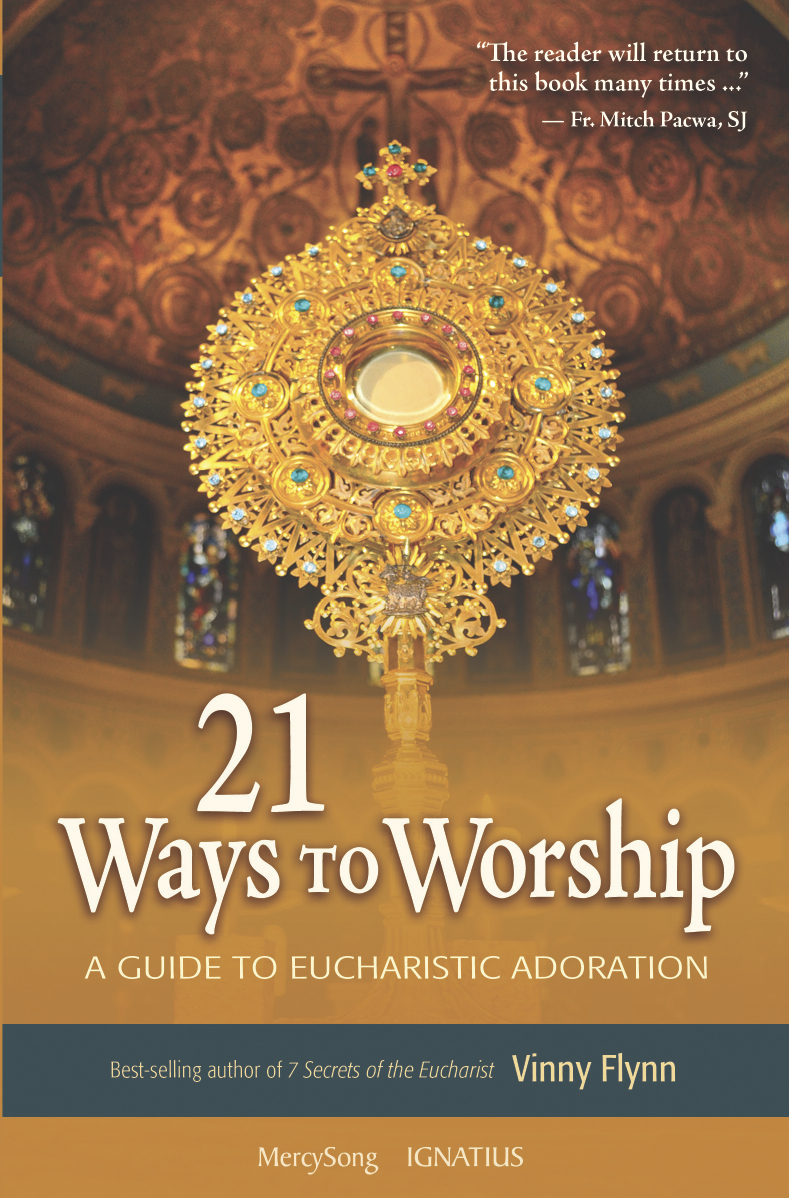 more!
In the inspiring new book, 21 Ways to Worship, best-selling author, Vinny Flynn, shares his favorite ways to pray in Eucharistic Adoration. Written in the author's personal, conversational style, complete with puns and other bits of humor, 21 Ways to Worship is an easy to read, practical guide, jam-packed with inspiring ideas, techniques, and prayers to help you make the most of your Holy Hour. It's a perfect resource for the beginner wondering what Adoration is all about, and for the veteran adorer looking for additional ideas.

Read what people are saying about 21 Ways to Worship!
"Vinny Flynn played an important role in my life of worship when I came back to the Catholic church. His new work, 21 Ways To Worship, has something for everyone when it comes to developing a life of intimacy with God. This is what we are going to be doing for eternity, so now is the time to begin."
~Jeff Cavins
Internationally known speaker, bible teacher, author, and TV host
Creator of Great Adventure Bible Studies and Walking Toward Eternity:
Daring to Walk the Walk
www.jeffcavins.com
"Vinny Flynn has done it again! With his fun, accessible, and faith-filled style, he gives us yet another key to unlocking the mystery of Christ's Eucharistic love. This time, he shares the secrets to "keeping it real" before the Lord's Real Presence. This book is more than just another devotional; it actually teaches us how to pray, and it does so in a way that's holy, humorous, and human. Enjoy the book. Enjoy the Lord."
~Fr. Michael Gaitley, MIC
Author, Consoling the Heart of Jesus and
33 Days to Morning Glory
Director, Association of Marian Helpers
www.marian.org
"21 Ways to Worship is brilliant! An adoration chapel is the ultimate classroom of silence — there you will find, peace, clarity, and the friendship of a lifetime!"
~Matthew Kelly
New York Times bestselling author of
Rediscover Catholicism
www.matthewkelly.org
"The Church teaches that adoration is an extension of Mass, but many people are unsure about what to do once they enter the adoration chapel. Vinny Flynn offers a "how to" book for Eucharistic adoration, with many practical and simple spiritual exercises. His suggestions will help people through a variety of stages and personal moods during adoration, always with the double goal of deepening one's personal relationship with Jesus Christ and maintaining personal authenticity in the relationship.  He integrates a focus on Jesus Christ with a Trinitarian theology and with an important Marian component. His use of familiar Biblical images helps the one praying to vividly grasp the task of adoration and remain focused. The reader will return to this book many times in order to squeeze all the spiritual juice out of it."
~Fr. Mitch Pacwa, SJ
Biblical scholar, author, and Host of EWTN Live
President and Founder, Ignatius Productions
www.ignatiusproductions.org
"How do we worship God? Scripture constantly reminds us to adore Him, but how?  Help is on the way. 21 Ways to Worship opens Scripture and the rich tradition of the Church to reveal the secrets to profound and meaningful worship of God. This book not only provides the why but also the how."
~Steve Ray
Author of Crossing the Tiber and producer of
Footprints of God videos
Tour Guide to Biblical Lands
www.crossingthetiber.com
"What a great book! This book is a much needed 'How To' on what to do in Adoration.  As the pastor of a Church with Perpetual Adoration I am often asked, 'Father what should I do when I am there for a whole hour?' Now I can answer by giving them this book! Thank you!"
~Fr. Larry Richards
Internationally known speaker and retreat master
Author of Surrender! The Life Changing Power of Doing God's Will and
Be a Man!: Becoming the Man God Created You to Be
www.theReasonForOurHope.org
"You're in for a treat! Author, Vinny Flynn takes us by the hand and guides us towards the Blessed Sacrament. 'Don't be afraid, come as you are,' he seems to say, as he gently explains how to bare our souls to be truly present to Our Eucharistic Lord. You'll surely be motivated by the author's enthusiasm! This is a terrific book — a real gem —a brilliant tool to help deepen our prayer lives."
~Donna-Marie Cooper O'Boyle
EWTN TV Host and author of several books
including Rooted in Love: Our Calling as Catholic Women
www.donnacooperoboyle.com
"21 Ways to Worship is a delightful, practical, and profound read — a much-needed gift for the Church! Though I have been a daily worshiper of the Blessed Sacrament for twenty-two years, I learned new ways to deepen my holy hour. This book will bless every reader in a unique and personal way. I highly recommend it."
~Kathleen Beckman
Author of Rekindle Eucharistic Amazement and Behold the Lamb of God
Radio Maria's Host on "Living Eucharist"
www.kathleenbeckman.com
"I became so absorbed in reading 21 Ways of Worship that I had to finish it before retiring for the evening. It is an excellent book, not only for beginners, but for the more proficient as well. It has just the right balance of the informal, low-key approach with the traditional renditions of Scripture, tradition and doctrinal definitions. The author's personal conviction and profound grasp of the subject comes through without any
sense of self-promotion. Congratulations on a work well done!"
~Fr. Peter Damian Fehlner, S. T. D.
Professor of Theology, international lecturer
Author, St. Maximilian Kolbe: Martyr of Charity
Rector, Shrine of Our Lady of Guadalupe, La Crosse, WI
www.marymediatrix.com
"Many adoration chapels have small libraries where reading material is made available for those who come to worship and adore Jesus in the Blessed Sacrament. Vinny Flynn's latest book 21 Ways to Worship deserves a spot on all those sacred shelves!  It offers fresh insights into how to spend time with Jesus, and will greatly increase the reader's love for our Eucharistic Lord."
~Fr. Donald Calloway, MIC
Internationally known speaker
Author, No Turning Back: A Witness to Mercy
www.fathercalloway.com
If you've ever struggled with making a Holy Hour, Vinny Flynn's 21 Ways to Worship is a great resource to help you develop a deeper, more intimate relationship with our Eucharistic Lord. In simple-to-understand language, Flynn offers sage advice on how to get the most out of your time with Jesus. From journaling and surrender to visualization and the role of Mary, this short, easy read is a delight for those who, like me, need a little help in front of the Eucharist!
~Patrick Novecosky
Award-winning Catholic journalist
Editor-In-Chief, Legatus Magazine
www.patricknovecosky.com
"This little book is a true gem. Each suggestion is accessible to even the beginner, and each has its own particular grace. Bring this slim volume with you to Adoration. Read it prayerfully and let the Lord show you His will for your time with Him."
~Elizabeth Foss
>Featured columnist for the Arlington Catholic Herald
Author of Real Learning: Education in the Heart of My Home and Small Steps for Catholic Moms
http://www.elizabethfoss.com